Robotic Ultrasonic QC
New adaptive robot cell flexibly automates highly sensitive ultrasonic inspection of vehicle doors' fold glue joints. And other ultrasonic applications…

Why Robotic Ultrasonic Quality Control (QC)?
The new FRS robot cell enables the flexible automation of highly sensitive ultrasonic measurements along the fold glue joints of vehicle doors. The patent-pending solution revolutionizes today's complex manual ultrasonic quality control, which is time consuming and error prone.
FRS develops, produces and distributes software, machines and systems for any robotic ultrasonic measurement application, based on the latest research results and innovative technologies.
Key Advantages
Compared to manual inspection, it is like having your best quality control operators on the job and increase productivity at the same time – and make sure they never get tired. The automated adaptive process delivers more robust and flexible ultrasonic quality control, which leads to consistently better produced items.
The robot takes over ergonomically burdening tasks from operators, while they can continue work near the robot without fencing around it.
Faster inspection than by experienced operator
'Robotic Ultrasonic QC' speeds up inspections by adaptively guiding the ultrasonic sensor.
More reliable inspection results
Robust & reliable ultrasonic inspection of part series – flexibly handling geometric variations in production.
Higher flexibility in parts inspections
Switching to another item variant only requires clicking a few software buttons.
Offering robotic intelligence
Based on contact forces and ultrasonic measurements, FRS adjusts the position and orientation of the ultrasonic sensor in real time. In this way, FRS offers the required robotic intelligence to continuously take valid ultrasonic measurements.

FRS Robotics has demonstrated 'Robotic Ultrasonic QC' on vehicle doors in premiere on Control 2018 in Stuttgart.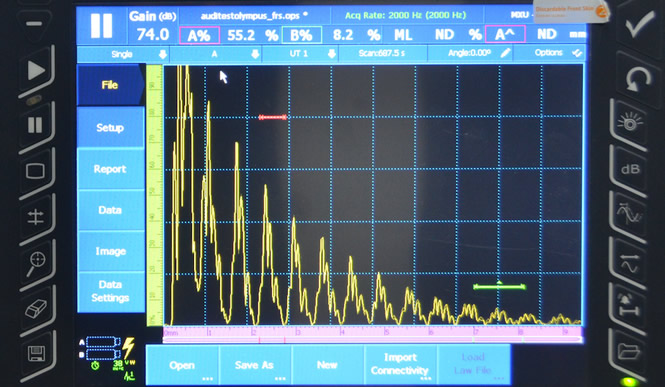 Sensor-guided robotic operations
Partner with FRS to automate skilfull tasks with robots. In this regard, the solutions of FRS typically include sensor-guided robotic operations (force, laser, etc.). The patented technology of FRS responds to tasks which have not been automated yet for technical reasons. Very precise robot positioning without the need of a calibrated environment or without the use of a 3D camera is possible.
FRS also offers services in the form of robotic automation studies and consultancy. At the core of the robotic services are research and technology innovations related to adaptive sensor positioning in real time.
FRS is a Belgian high-tech company specializing in adaptive robot control designed for human-robot collaboration or full automation applications.